Man Ryul Lee, Ph.D.

Associate Professor, Vice Director of SIMS Research Planning Division

hESC, hiPSC, Metabolic Reprogramming, microRNA, Organoid

Room 209, SIMS

+82-41-413-5013

leeman@sch.ac.kr
Laboratory of Stem Cell Regulation (Stemopia)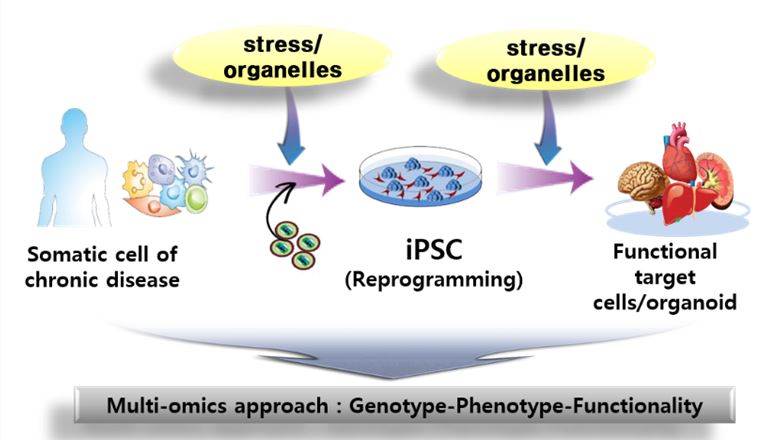 Our group research interests focus on the early human development and identifying the causes of diseases using human pluripotent stem cell (hESC) and cord blood hematopoietic stem cell (HSC). To understand such complex and diverse biological mechanisms underlying the human's early development and diseases, we take multi-omics approaches such as transcriptome, metabolome, and single cell transcriptome to examine relations of genotype-phenotype-functionality.
I. Analysis on the Characteristics of Human Pluripotent Stem Cell
As Human pluripotent stem cells are equipped with an ability to self-renew and differentiate into ~200 functional cells, they are a promising source of cell therapeutic products with unique cell functions and mechanism. A core area of research addresses changes in intracellular organelle, intracellular stress reaction, and metabolic mechanism of three types of human pluripotent stem cells; embryonic stem cell (ESC), induced pluripotent stem cell (iPSC), and somatic cell nuclear transfer stem cell (SCNT). Especially, in order to explore changes in intracellular organelles and stress during the process of differentiation/reprogramming, transcriptome, microRNAs, metabolome, and single cell transcriptome are routinely performed to provide evidence to develop highly efficacious cell therapeutic agents.
II. Establishment of Organoid & Disease Modeling
We are currently establishing a protocol for a multi-organoid, which provides an in vitro tool to elucidate the causes of genetic disorders or intractable diseases, and disease modeling. We establish patient-specific iPSCs from the individuals suffering from a genetically inherited disorder and using an hESC line with a genetic defect, we have established a vascular modeling system to study the cause and find a cure for hereditary neurovascular disease. In addition, we perform the functional analysis of lung that has a genetic deficiency at the single cell level using a lung organoid.
III. Development of Metabolism-Targeting New Drug for Acute Leukemia
The incidence rate of acute leukemia is constantly increasing by 5-10% every year, but only ~30% of the patient is cured by the existing medicines. It is necessary to explore the unique and new metabolic mechanisms of cancer cells for the development next-generation anticancer drugs. One strategy would be to develop a targeted anticancer drug that can detect and control the specific metabolism of tumor cells, especially metabolic regulatory enzymes in the mitochondria. In our lab, a joint research team is formed to develop an anti-cancer drug targeting a mitochondria specific carbonic anhydrase 5 (CA5A/B). An in-depth analysis of metabolome and mechanism of leukemic cells would open the way for developing a new metabolism-targeting anti-cancer drug
Principal Investigator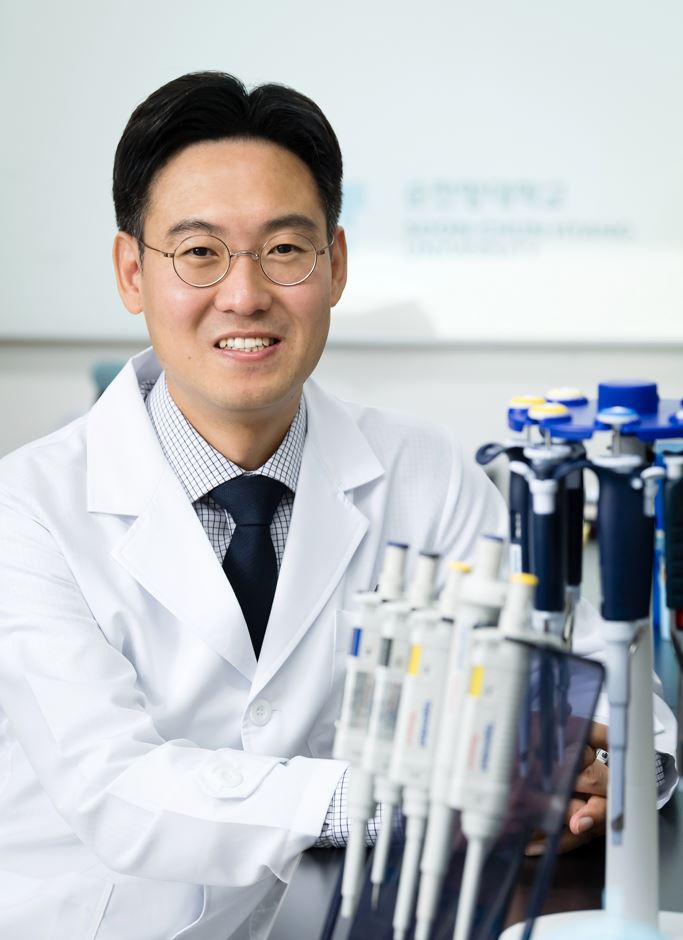 Man Ryul Lee Ph.D.
Biography

2002. B.S. in Animal Bioscience and Technology, KonKuk University, Korea
2004. M.S. in Biomedical Sciences & Engineering, Korea University, Korea
2009. Ph.D. in Biomedical Sciences, Hanyang University, Korea
2015. Postdoctoral fellow, Indiana University, USA
2019. Assistant Professor, Soonchunhyang Institute of Medi-bio Science (SIMS)
Present~ Associate Professor, Soonchunhyang Institute of Medi-bio Science (SIMS)
Research Interest
1. The study of miRNA-mediated pluripotency and somatic cell reprogramming
2. The study of cellular organelles in maintaining stem cell niche
3. The establishment of organoid and disease modeling using iPSC
4. Development of metabolism-targeting new drug for acute leukemia
---
Graduate Students
하태원 (Tae Won Ha)
Education: 2017, B.S. in Soonchunhyang University
present MS/Ph.D. in SIMS
Laboratory: Lab. of Stem Cell Regulation
E-mail: htw5200@gmail.com
Research Field: Role of exosomal miRNAs in PSCs early differentiation
김현규 (Hyun Kyu Kim)
Education: 2016, B.S. in Sun Moon University
2018, M.S. in Sun Moon University
present Ph.D. graduate student in SIMS
Laboratory: Lab. of Stem Cell Regulation
E-mail: hyunkye8505@naver.com
Research Field: Mechanism of metabolic conversion and energy homeostasis during reprogramming
임정숙 (Jeong Suk Im)
Education: 2019, B.S. in Soonchunhyang University
present MS graduate student in SIMS
Laboratory: Lab. of Stem Cell Regulation
E-mail: vjvmf625@naver.com
Research Field: Effect of tight junction on maintain stemness
송예나 (Song Yena)
Education: 2016, B.S. in Mokpo National University
present MS graduate student in SIMS
Laboratory: Lab. of Stem Cell Regulation
E-mail: thddpsk123@naver.com, vjvmf625@naver.com
Research Field: Research on somatic cell reprogramming and lung disease using lung organoid