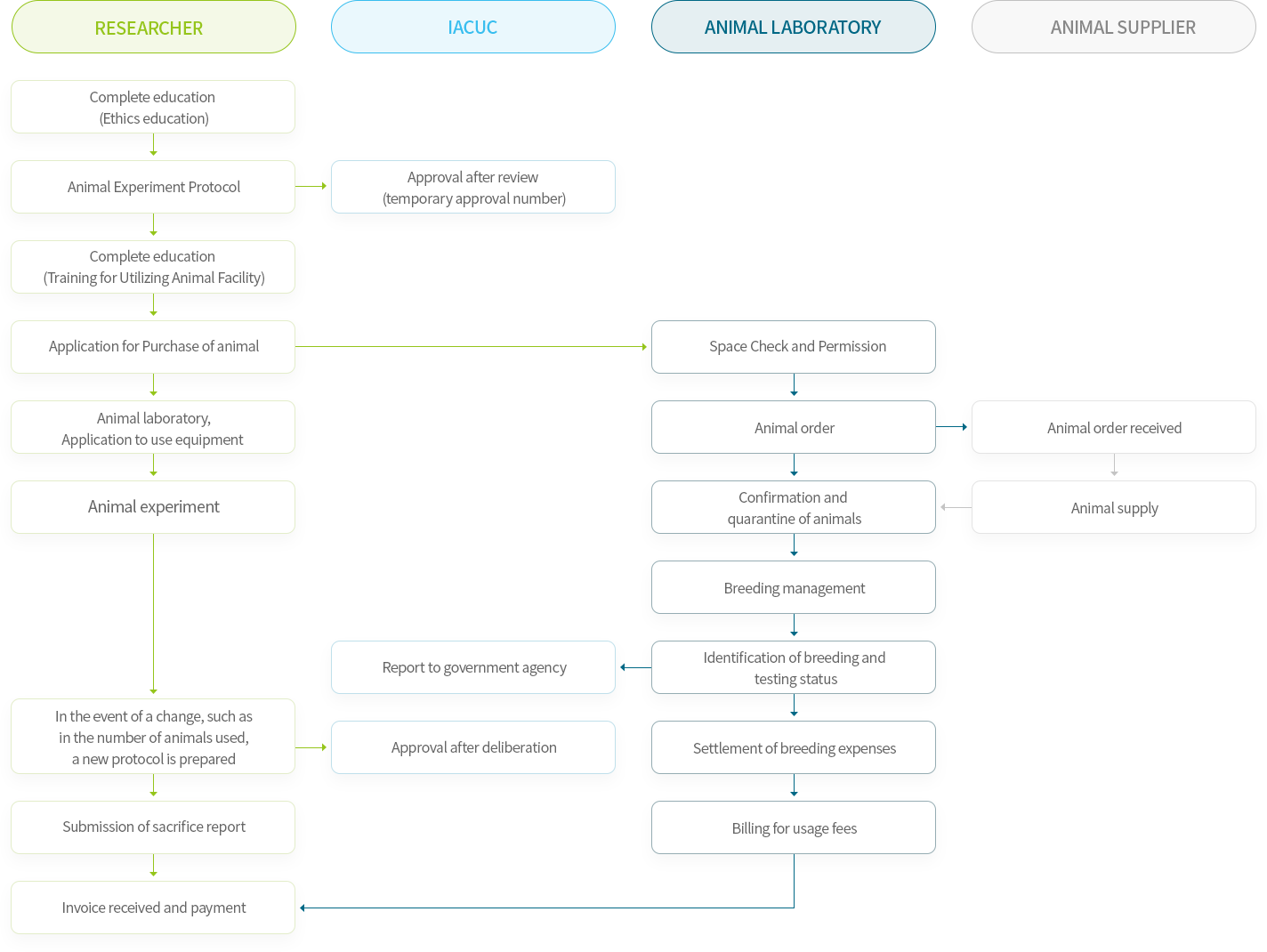 · Complete SCH IACUC Ethics education

· SIMS Training for utilizing Animal Facility (1time/month, Notice)

IACUC

1. Before writing an animal testing protocol, you should contact the chairman of the SIMS IACUC to obtain approval.

2. Animal application

3. Apply for animal purchase

4. Delivery date : Tuesday or Thursday
※The delivery date may change depending on holidays and company situations.

5. Apply to carry in animals

1)

Submit [Application for carrying in animals] and a monitoring report covering more than 1 year, documented by the breeding institution.

2)

After being approved by the SIMS IACUC, bring animals into the quarantine room in the SIMS animal laboratory.

3)

Laboratory animals which have been brought into the quarantine room are reared for 4 weeks, and the Korea Research Institute of Bioscience and Biotechnology is requested to perform microbial monitoring (31 items). The cost of the monitoring is paid for by the investigator.

· User training based on the SIMS animal laboratory SOP must be observed.

· Usage fee is calculated on a daily basis for each cage, and monthly bills will be sent via e-mail at the beginning of each month.
Usage fee

| Item | Area | Soonchunhyang | Others |
| --- | --- | --- | --- |
| 1 cage/day | SPF | ₩ 900 | ₩ 1,800 |

※ If additional cage changes and drinking water changes beyond the normal management cycle are required due to the nature of the experiment, additional fees for replacing cages and drinking water will be charged.
※Management cycle
- Cage change: 1 time/week
- Water change: 2 times/week
Items

Mouse
Items (31 items)
Sendai virus (HVJ)
Mouse hepatitis virus (MHV)
Hanta virus(Hemorrhagic fever with renal syndroma)
Lymphocytic choriomeningitis(LCM)virus
Mouse encephalomyelitis virus(GDVII)
Pnemonia virus of mice(PVM)
Ectromelia virus(agent causing mouse pox)
K virus
Lactic dehydrogenase elevating virus (LDEV)
Mouse parvovirus(MPV)
Mouse thymic virus(MTV)
Polyoma virus
Reovirus 3(REO 3)
Rotavirus (Epizootic diarrhea of infant mice[EDIM])
Minute virus of mouse(MVM)
Mouse adenovirus(MAV)
Mouse Norovirus(MNV)
Mycoplasma pulmonis
Pasteurella pneumotropica
Salmonella spp.
Corynebacterium kutscheri
Pseudomonas aeruginosa
Clostridium piliforme (Tyzzer's disease)
Cilia-associated respiratory(CAR) bacillus
Intestinal protozoa
Syphacia spp.
Ectoparasite
Helicobacter hepaticus
H.bilis
Streptococcus
Staphylococcus aureus
Routine Monitoring

Regular inspection for microbial contamination in breeding animals 4 times per year (quarterly)
Special Monitoring

Quarantine
Microbial testing for animals when they are carried in.
In case of suspected disease outbreak
Mass stranding
Weaning rate for the living falls suddenly
A large number of animals with a bent back appear
Sudden decrease in feed intake
Tremors and abnormal behavior are observed in animals
A large number of animals avoid people (anxiety) etc.