My lab is focused on cancer and cancer-associated diseases. Currently, we have four projects, including cancer stem cell, liver fibrosis and cancer, muscle wasting, and therapeutics.
Project I is identifying key signaling pathways in cancer stem cells (CSCs). CSCs have the ability to propagate cells, and are considered to be the cause of cancer relapse and metastasis. One of the key characteristics of both stem cells and cancer stem cells is their ability to self-renew. Due to the shared characteristics, it has been proposed that signals that regulate self-renewal of stem cells may also regulate the uncontrolled propagation of cancer cells. Thus, we have been interested in elucidating novel signaling pathways that regulate self-renewal of stem cells and how these same pathways are dysregulated in cancer formation.
Project II is studying liver fibrosis and liver cancer. Liver fibrosis is caused by liver damages, such as alcohol and virus infection, etc. and could be progressed into liver cancer. We are identifying key mechanistic insights on this progression using hepatic stellate cells and patient-derived samples.
Projct III is focused on muscle wasting or muscle atrophy. Muscle atrophy, such as sarcopenia and cachexia, that results in a state of weakness and atrophy of body is associated with many conditions, including aging, cancer, diabetes, and metabolic syndrome. We are elucidating the mechanisms and key signaling pathways implicated in muscle wasting.
Projct IV aims to develop therapeutic approaches against on the diseases mentioned above. We are studying immunotherapies using NKT or antibody against cancer, and testing small molecules against muscle wasting that we identified recently.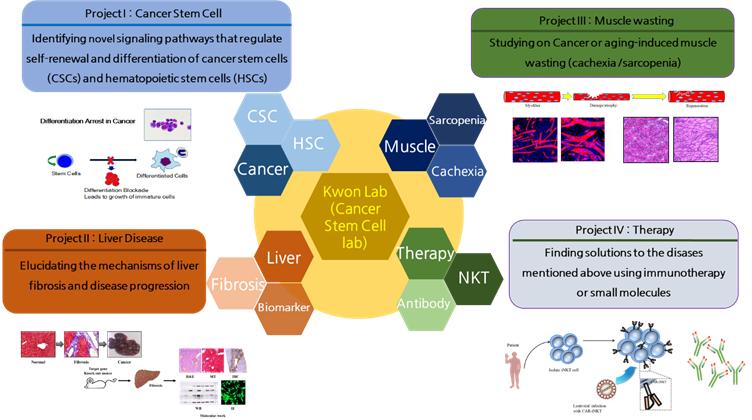 Principal Investigator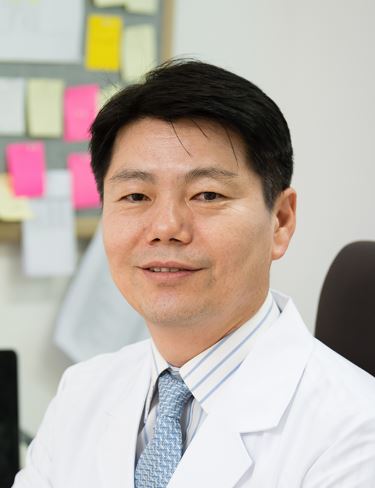 권혁영 (Hyog Young Kwon)
B.S. in pharmacy, Sung Kyun Kwan University, Korea
M.S. in pharmacy, Sung Kyun Kwan University, Korea
Ph.D. in pharmacy, Sung Kyun Kwan University, Korea
Postdoctoral fellow, Duke University, USA
Postdoctoral fellow, University of California, USA
Assistant Professor, Soonchunhyang Institute of Medi-bio Science(SIMS), Soonchunhyang University, Korea
Associate Professor, Soonchunhyang Institute of Medi-bio Science(SIMS), Soonchunhyang University, Korea
---
Research Associate
김광석 (Kwang Seock Kim)
Research associate since 2017
Studying on liver diseases, such as liver fibrosis and livercancer
---
Graduate Students
Ita Novita Sari
Graduate student since 2015
Studying on cancer stem cells and hematopoietic stem cells
Yoseph Toni Wijaya
Graduate student since 2018
Studying on muscle wasting and therapeutics
Tania Setiawan
Graduate student since 2019
Studying on immunotherapy and leukemia